Summary
Map of visualization of transfers outside the EU
Message templating system (audit invitations, rights exercise message)
Requests for exercise of rights with multiple rights
Association between data subject rights exercise requests and processing
DMS file sharing system
System for downloading a DMS directory in ZIP format
Improved export of actors
Correction of some critical bugs on audits
Fixed task assignment notifications
Special thanks
We are getting more and more people on the platform, which is more and more exciting for the product development team! We are fully committed to continue our efforts to improve the stability and usability of the platform.
We would like to warmly thank all the users who contribute to improve the product by reporting bugs or proposing features and in particular:
Bernard F.
Bruno S.
Jonathan V.
Hélène J.
Stéphane R.
Alix P.
Update details
Record
Page of visualization of the transfers on a world map

To access it, click on the record viewer selector:

This map will allow you to see all the transfers in the record. You can access the processing concerned by the transfer by clicking on the country of destination of the transfer.
Basically, the origin of the transfers will be the location of the headquarters of the entity data controller.
Message template system
In order to improve the productivity of our users, we have implemented a template system for tasks, data subjects rights exercises and audit invitations. This easy-to-use system will save you time by avoiding manual rewriting of the same messages. It is also an excellent way to standardize your company's signature.
Here are the modules that use this system:
The conversations in the requests
The body text of the tasks
The body text of the message sent to respondents of an audit
It is possible to insert dynamic variables in the model which will be automatically fed when the model is selected. The system used for the templates is liquid.
Capture :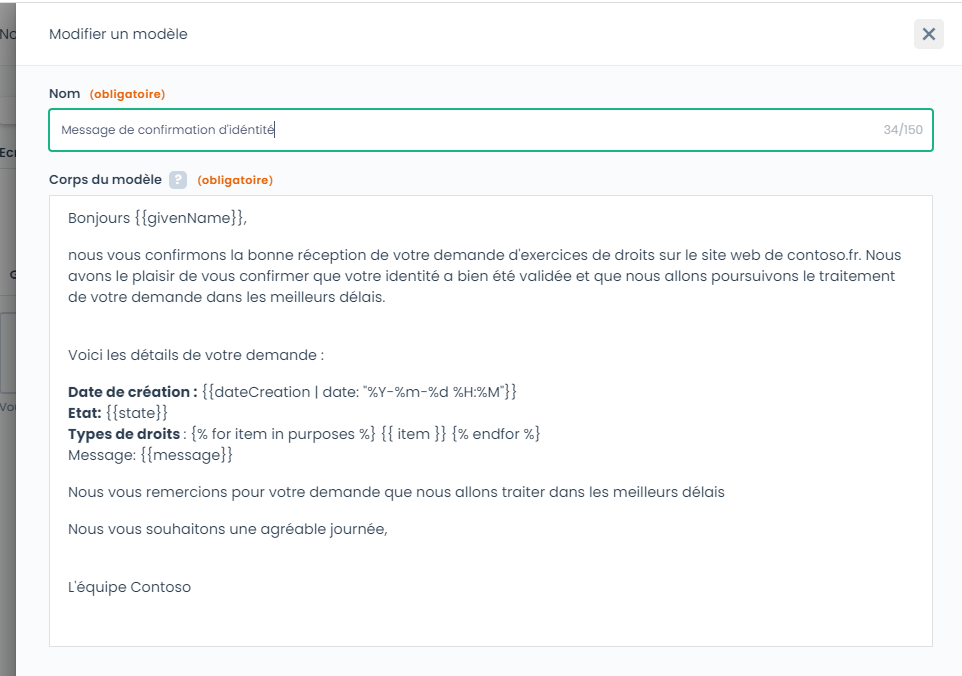 To access the template system, you just have to create a new message in a data subjects rights exercise request for example and click on the button above the message editor.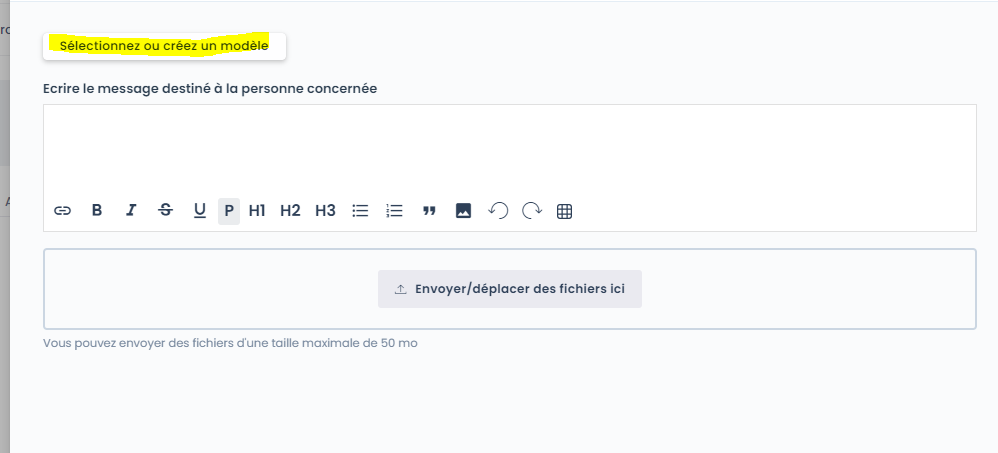 Files
It is possible to download a complete folder from the DMS by clicking on the contextual menu of the folder
You can share a file or a complete folder of the Files system

Data subjects rights exercises
Possibility to enter several types of rights for the same request (preserving the display in the table and the possibility to filter them)
Possibility to simply associate a processing to a request to data subjects rights exercise

Bug corrections
Error when not entering a variable name in the audit questionnaire
Error when deleting all the sections of the audit: now the deletion is locked when only one section remains
Redirection after deleting a section of the audit model
Pagination in list mode tasks
Notification of task assignment that did not work in all situations
Export to CSV or Excel format of security measures
Other improvements
Export of actors with support for filters
Dastronaut wizard improved with some bugs fixed.