Dear users,
We are very proud to announce Dastra version 1.6.2, which brings a host of improvements and fixes.
Features
Questionnaires
Renewing questionnaires
You could already renew questionnaires once they were published, but you were forced to renew on the same version of the questionnaire template used when it was created. Now you can renew on a higher version of the template.
For example, you've finalized an AIPD and then made changes to the template (adding a question, for example). You can now renew the questionnaire directly on the new template version.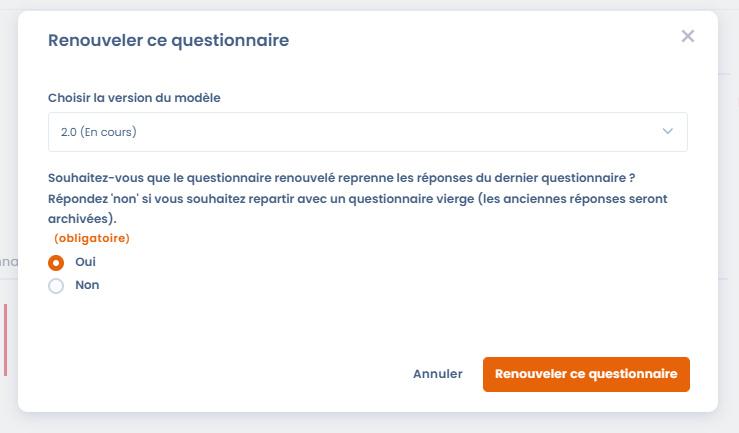 Please note that renewing with a new version of the template will not allow you to take over the answers at the time of renewal. In fact, as the template has changed, the answers cannot mathematically be taken over.
Modification of the "abandon" button when a questionnaire is published
You can abandon a questionnaire without having to delete it in order to keep a trace of it. But it is also possible to redo an abandoned questionnaire. To do this, you need to have the rights as the person responsible for the questionnaire. The button has been renamed for greater clarity.

Display of question descriptions in custom lists
Descriptions are now taken into account in custom lists. As a reminder, custom lists are questions nested within other questions. These settings are made in the questionnaire template editor.
Customizing multiple-choice questions
We have renamed and readjusted the ability to force a minimum or maximum number of choices to be made in a multiple-choice question. The headings have been renamed for greater clarity.
Data import (complex spreadsheet)
We've improved the ability to import data via an Excel spreadsheet. A more comprehensive video tutorial is forthcoming. Useful for repeating work already done.
Processing
Processing sections
We've slightly modified the ergonomics of moving from one section to another within a processing. The next button has been moved to make it more visible and intuitive.
This change also applies to data violations.
Data remarks field
The content of the remarks field for data included in a dataset is now displayed in the processing data section.
This information is also displayed in the processing summary section.
Useful if specific retention periods are specified for a dataset.
Mandatory or optional data
Information on mandatory or optional data is displayed in the data section of a processing operation and in the summary with an asterisk.
Dashboard and freshness
The freshness index has been added to the Dastra dashboard! Now you can see the number of fresh processings over the number of expired processings. This allows you to see immediately which processings need to be reviewed.
Exercising rights
Location of custom fields
It is now possible to place custom fields in rights exercise widgets in new sections. For example, you can add a custom field in the Communication section to indicate that you have communicated with requesters by another means.
Archive statistics
You can now generate statistics on the rights exercise request archive.
Display multiple widgets
This is not the desired default behavior for widgets, but you can now display multiple widgets on a single page and choose which data can be preset on the widget.
Task workflow rules
It is now possible to display task-related objects in notifications made via workflow rules. For example, to send an e-mail notification of a task that will include the related processing.
Fixes
Application display in German
Germanic words can sometimes be quite long. This was causing minor UX problems, which we have corrected.
Minimum questionnaire size
Couldn't be removed once added to a question. Fixed now!
Task files destination directory
They were going to default to a folder dedicated to assets. Now tasks have their own default folder!