We are pleased to announce the release of several new features for Dastra. Version 1.5.5 brings significant updates aimed at improving the user experience, customization options and performance. Let's dive into the details of these new features without further ado:
✨ Redesigned DSR Collection Widget with advanced customization options
In response to customer feedback, we've completely redesigned our application submission widget. The new design offers a modern and intuitive interface, making it easier for individuals to exercise their rights under the GDPR. In addition, we've introduced numerous customization options, allowing our customers to seamlessly adapt the widget's design to their brand identity. Now you can integrate your own visual elements and brand guidelines into the widget effortlessly.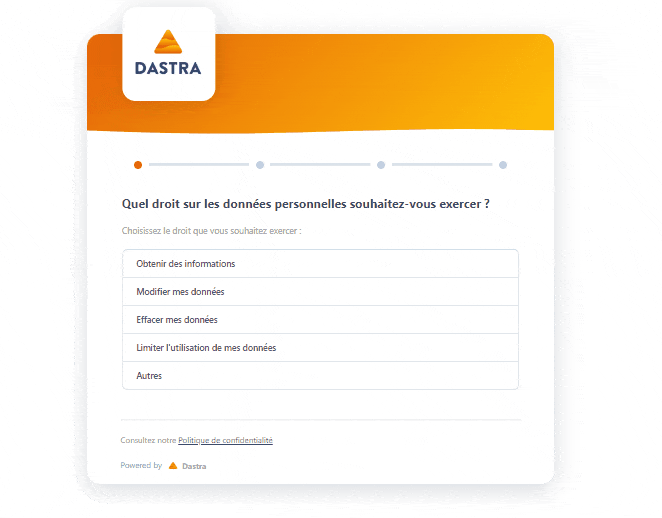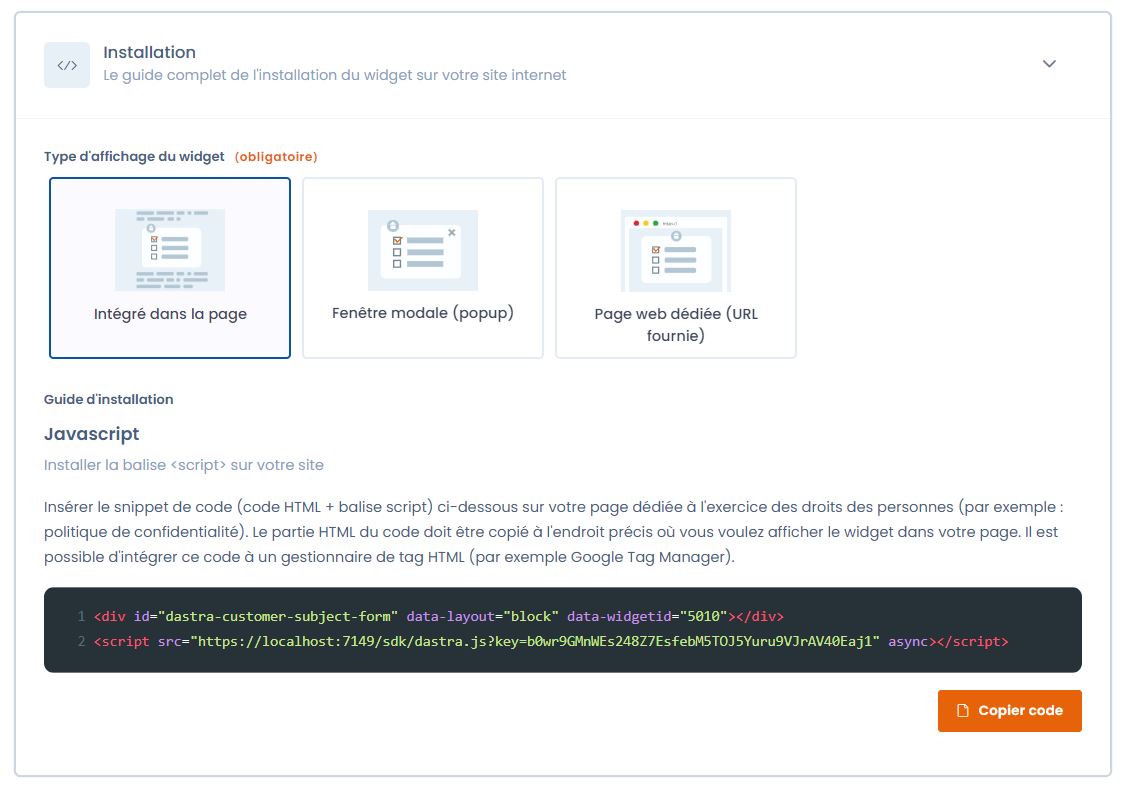 Switch between different integration modes more easily !

Configure the rights available in your widget and rearrange their order by drag & drop!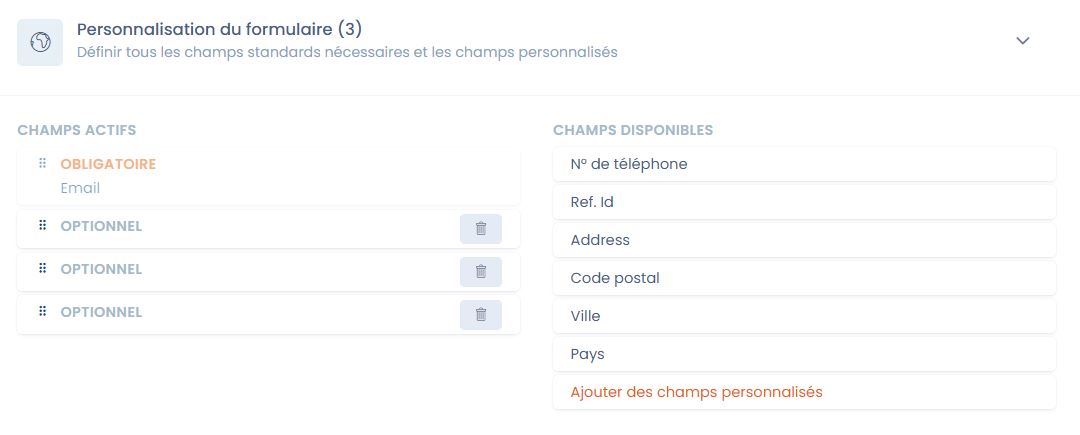 Customize form fields with our default or custom fields (you can even choose how fields are displayed depending on the type of request selected)!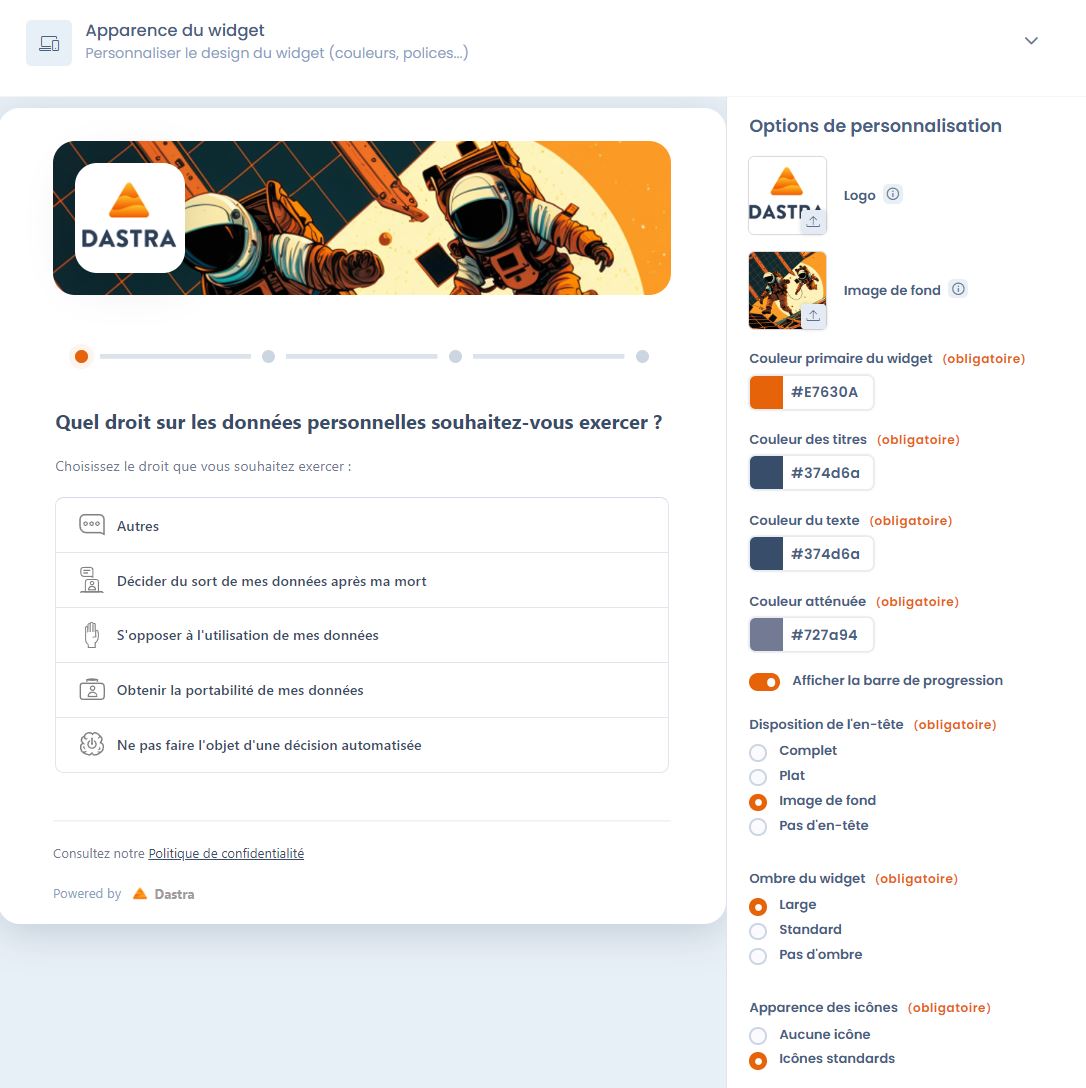 Many new widget customization options have been added.
👩‍🚀 Dataset creation wizard
We've added a dataset creation wizard, integrated directly into a processing form. This feature aims to simplify and accelerate the dataset creation process for our users.
This wizard is accessible from the "Data" step of a processing sheet. You now have the following two options:
Link an existing dataset
Add a new dataset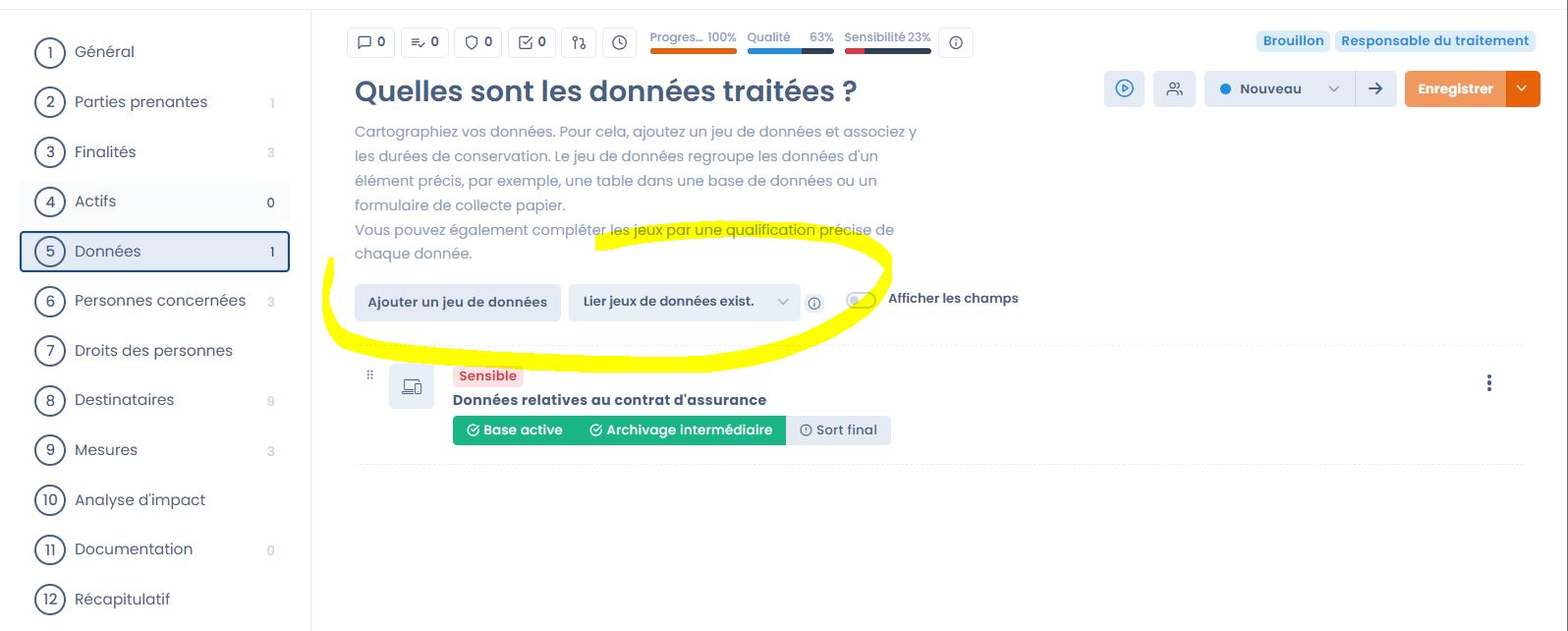 Access the wizard or link an existing dataset.
Linking an existing dataset is what you're used to: you'll find all the existing datasets in your repository, and with just a few clicks you can link them to your process.
The creation wizard is accessible via the 'add a dataset' option, and will enable you to create a new dataset from scratch or from an existing model. You'll have access to an intuitive interface for quickly filling in all the elements making up a dataset, without ever leaving the treatment register interface.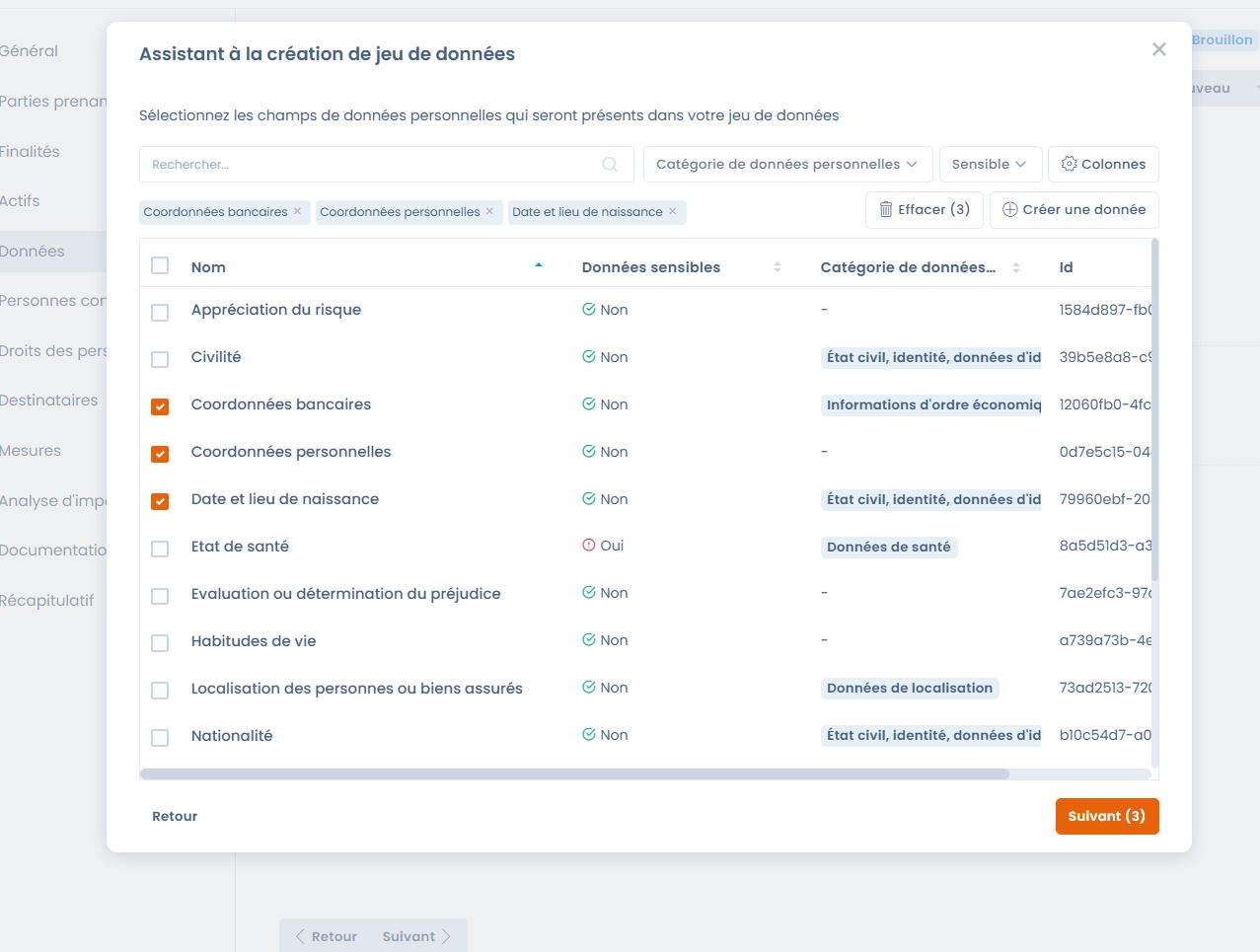 The interface allowing you to select the fields to be added to your new dataset.
This dataset creation wizard should make it much easier to manipulate the data in your repository.
Improved ergonomics for process step changes ✔
From now on, in the ROPA sheet, the user will be more prompted to move on to the next process step. The display of the process change window will be more visual and will prompt you to close the tasks associated with the step.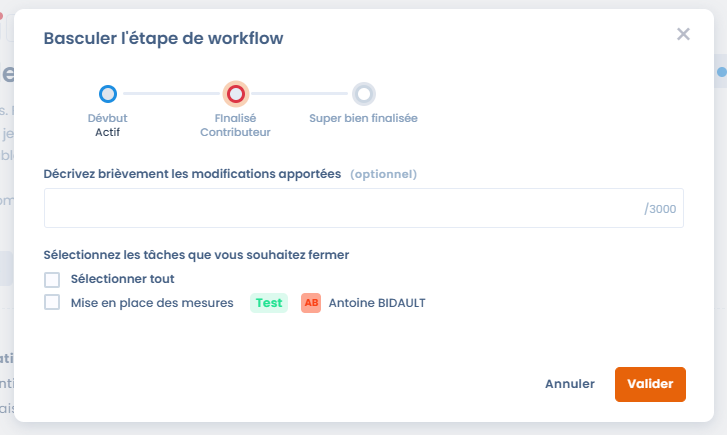 The new process step change window prompts you to close tasks.
Improved data processing export with progress indicators and details of tasks associated with processing 📃
We've enhanced the complete export of data processing by adding the quality, sensitivity and progress indicators you'll find in the register. In addition to these indicators, you now also have the option of including a summary of the tasks associated with the processing, to guarantee better monitoring of your action plan.
✏ Audits module gets a new name
We have renamed the Audits module to Questionnaires.
The main objective of this name change was to be clearer in the terminology used in our interface.
The term "Audits" could lead to confusion and give the impression that our module was exclusively dedicated to carrying out external audits (whereas it does much more than that 😉 ).
This module is a multi-purpose feature for collecting information and data from users interactively, hence the renaming to Questionnaires.
In terms of functionality, nothing changes apart from the new features concerning this module (see below).
📋 Audits: dynamic list questions
Introduction of nested questions in the questionnaire generator.
This feature enables you to create complex data collection forms by allowing multiple fields to be nested within a single question. Now you can design questionnaires with more sophisticated structures!

The dynamic list question type lets you nest multiple questions within a single question and collect lists of responses.
When collecting information, the respondent will be able to answer the question several times, thus generating lists of answers.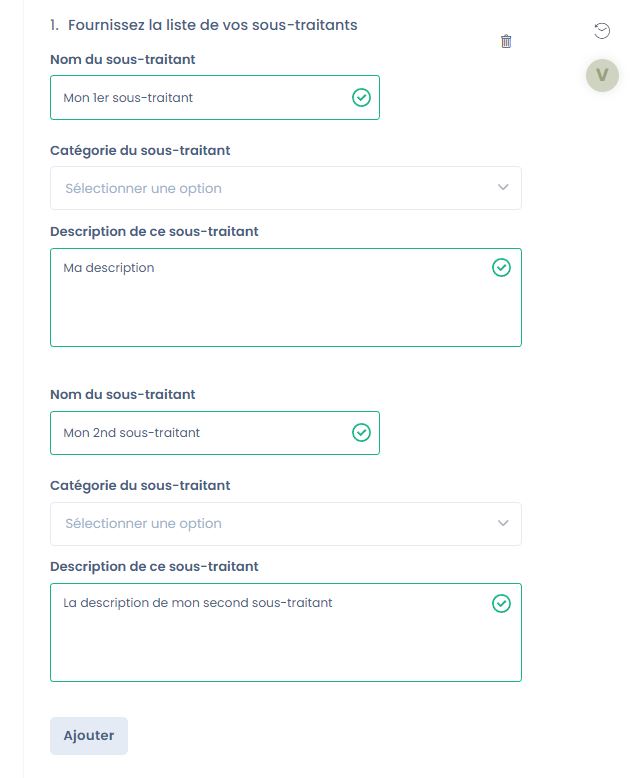 By clicking on 'add', the respondent can add answers to the list.
Capture errors when sending invitations to questionnaires 📩
To optimize the effectiveness of your questionnaires, we have modified the system for sending invitations. These changes now enable us to detect undelivered invitations. You'll be able to view email sending errors (if any) in the "Respondents" tab of a questionnaire, identify the causes of errors (such as a typo in the email address, for example) and resend invitations to the respondents concerned so that they can access the questionnaire.
This feature should greatly improve the reliability of your questionnaires and ensure that your respondents have received your invitation.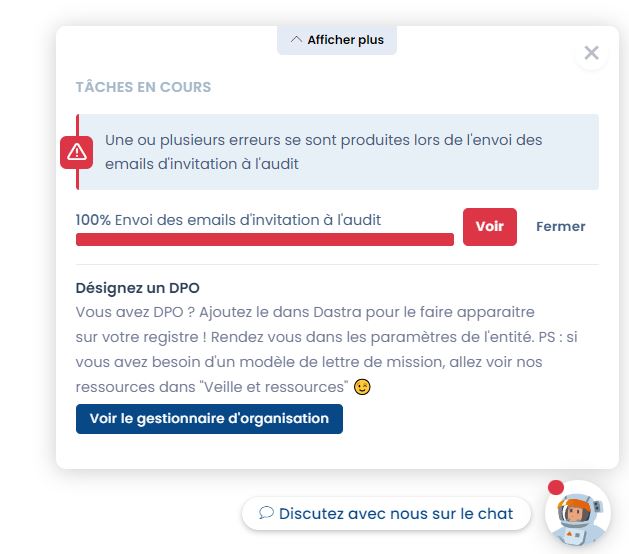 The Dastronaut notifies you of the progress of your invitations and if an error occurs.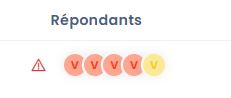 An icon lets you see if any errors have occurred in your questionnaire list!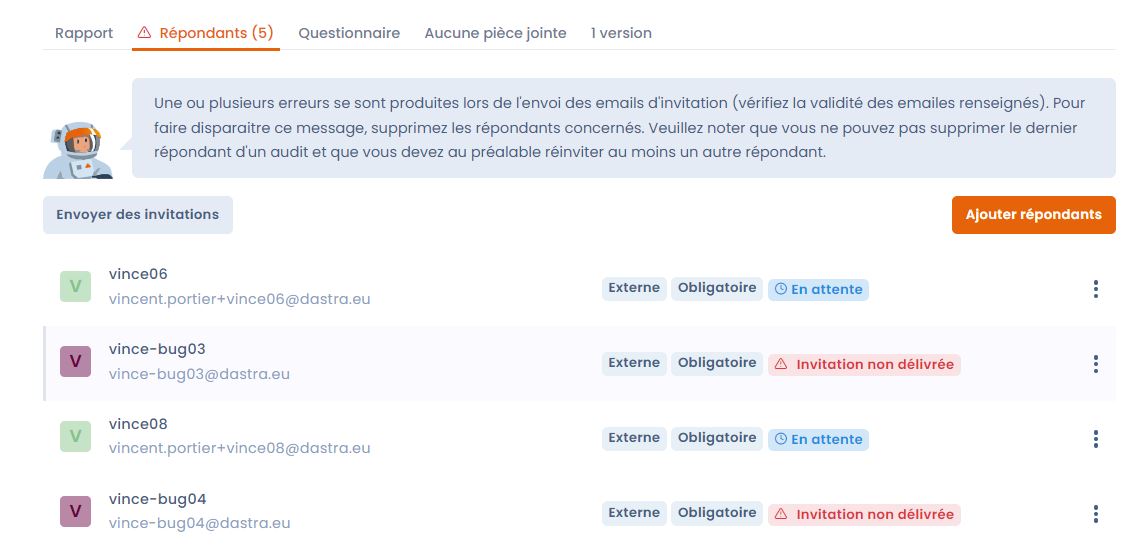 You can now manage respondents and invitations directly from the respondent tab of a questionnaire. Delete respondents in error and resend invitations to correct problems.
Migration to a new infrastructure for enhanced performance ⚡
To offer you even better performance and reliability, we've migrated our infrastructure to new, more secure and high-performance servers. This transition guarantees optimum system efficiency, faster response times and improved scalability.
Minor modifications
In addition to the above changes, we've also made the following enhancements: Addition of a webhook error email. To warn you of webhook errors, we've added an address to fill in.
Asset tracking tile added You can now track assets directly from the dashboard.
Slotting objects Assets, actors and treatments can now be cloned.
Relative dates in mass actions and processes You can now use relative dates in mass actions and processes. You can now use dates relative to the current date (e.g. when triggering a process, change the value of a verification date field to 30 days from now).
Added option to hide community Community will no longer be displayed by default. The community will no longer be displayed by default for non-French-speaking users.
Platform accessibility improved The main screens of the application have been analyzed according to web standards (Lighthouse) and we have improved the score from 78 to over 90 points.
Renaming of the companyName field for actors. Notice to api users: the field has been renamed label for consistency. We will reflect this change on Zapier when we update the application.
We're committed to continually improving Dastra to meet your evolving needs, and believe these new features will contribute to a more efficient and customizable experience. As always, we welcome your feedback and suggestions for further improvements. If you have any questions or need help, our support team is at your disposal via chat!