We are very excited to announce the release of our latest update (v 1.5.4), which brings a ton of new features to enhance your user experience. The main feature is our brand new colorful calendar, which will make planning your projects easier than ever.
But that's not all! We have also added rights management in the file manager, a graphical treatment summary to better understand your data, and even a search plugin for actors directly in the SIRET database. In short, there's plenty to get your teeth into!
So, ready to discover all this? 🤓
The new calendar view of the planning module
Many of you use our planning module on a daily basis and submit your ideas to improve this module. As we love to please you ❤, we had recently developed a tree view of your tasks in version 1.5.1 to help you manage your tasks even more easily. But we were not fully satisfied and felt that our module was missing one last view to make it the ultimate tool to drive your compliance projects: **an interactive calendar.
The task was not easy, we have thought and worked a lot since the last update to create a calendar that is complete in terms of functionality, visually elegant and easy to use. Here it is in this version 1.5.4, so discover all its features without further delay.
Important note before starting on the essential fields of a task to appear in the calendar
We have added a start date field in the task creation menu. For a task to appear in the calendar, it must have astart date and a due date. As this start date field is new, it has not yet been filled in for your existing tasks. So you will initially not see any tasks in your calendar, even if you have entered due dates in your tasks. Don't worry though, we will see how you can quickly find and schedule your unscheduled tasks.
Reminder on how to change the view in the scheduling module
Here is a video reminder on how to switch between the different views in the planning module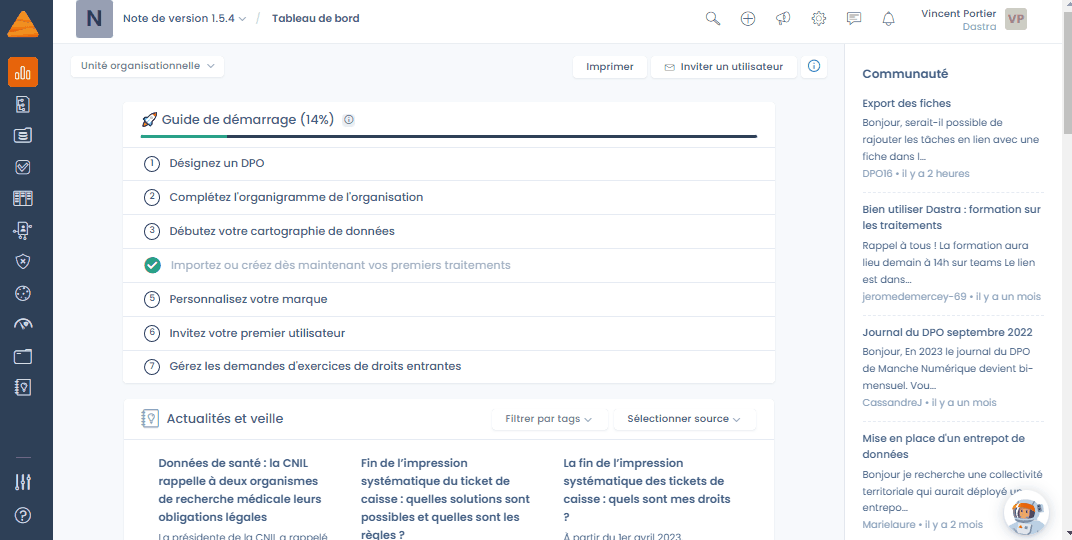 Calendar display in day / week / month
We've made the calendar view more flexible than ever by allowing you to easily switch between day, week and month modes. Whichever way you prefer to view your tasks and events, you can now do so with one click.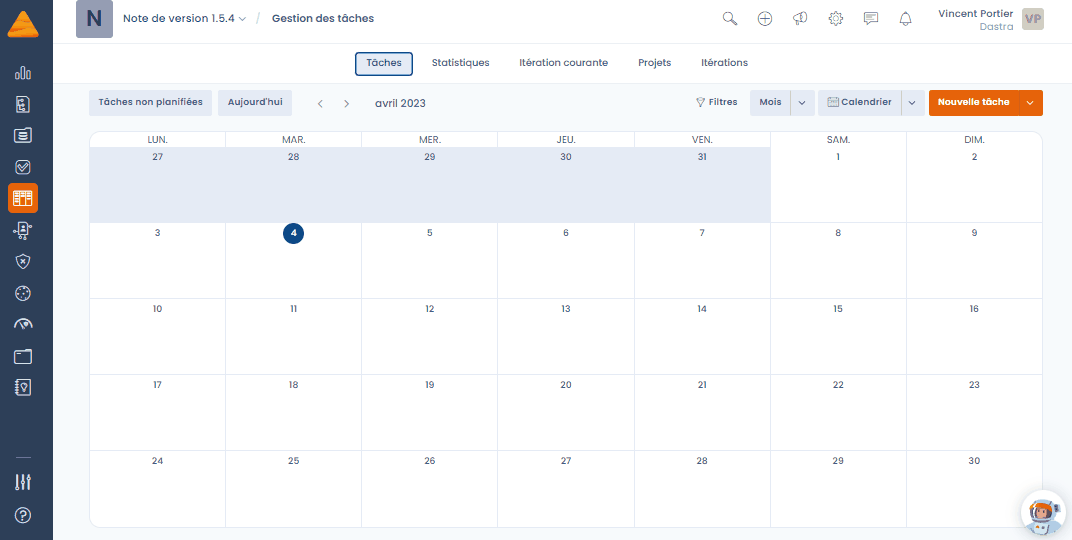 Navigating the calendar
We've simplified navigation in your calendar by adding scrolling arrows and keyboard shortcuts to help you move quickly between days, weeks or months (left arrow for previous, right arrow for next). You can also go back to today's date in one click by clicking on Today.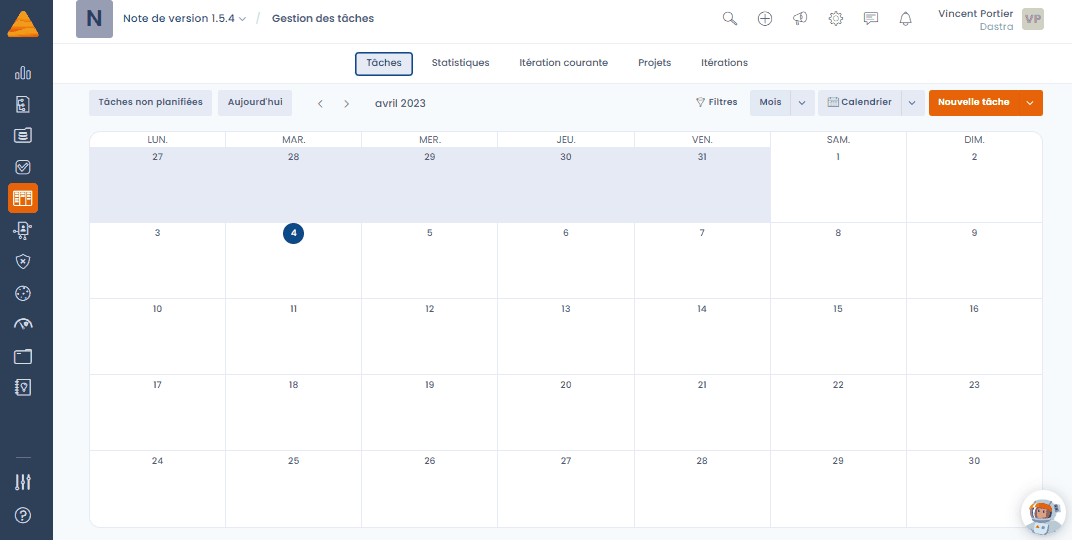 Schedule a task in one click
To schedule a task, just click on an empty box in the calendar, enter the title and details of the task, and you are ready to go. Don't forget to fill in the color and the priority of the task to add some spice to your calendar.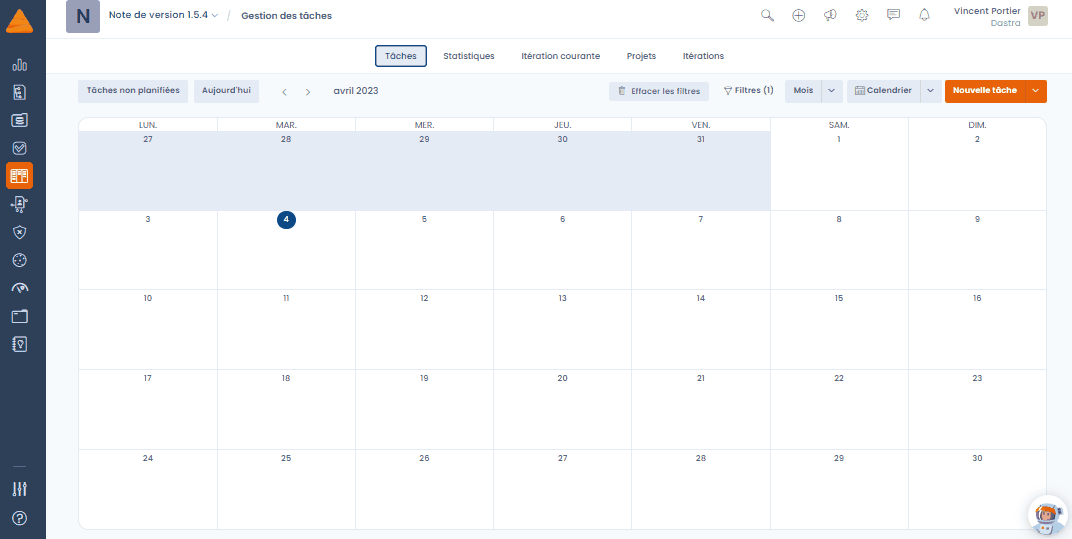 Scheduling existing tasks
As mentioned before, your task history will not initially appear in your calendar. You will find your tasks that do not have a start date in the unscheduled tasks tab. Simply drag and drop an unscheduled task from the tab onto the calendar to schedule it for a specific day. You will then be able to start using the calendar in a few clicks by simply importing your existing tasks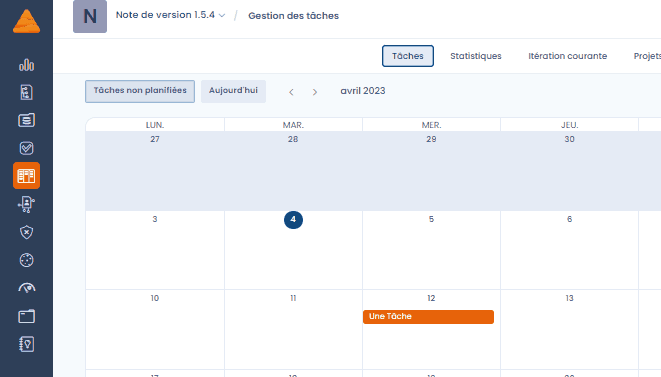 Deleting tasks
We've made deleting tasks faster and more intuitive. Just drag a task to the trash can that appears at the bottom of the screen to delete it in a flash. No need to waste time looking for the delete button.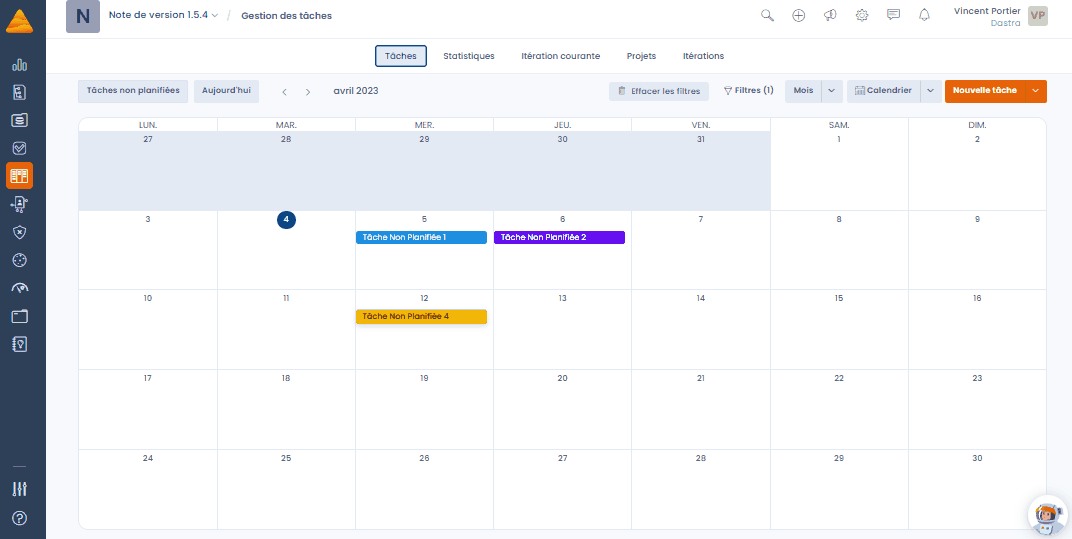 Scheduling of tasks over several days
We've added the ability to schedule multi-day tasks with a single click. By holding the click on the first day of the task and dragging the mouse over the following days, you can schedule a task over multiple days in no time.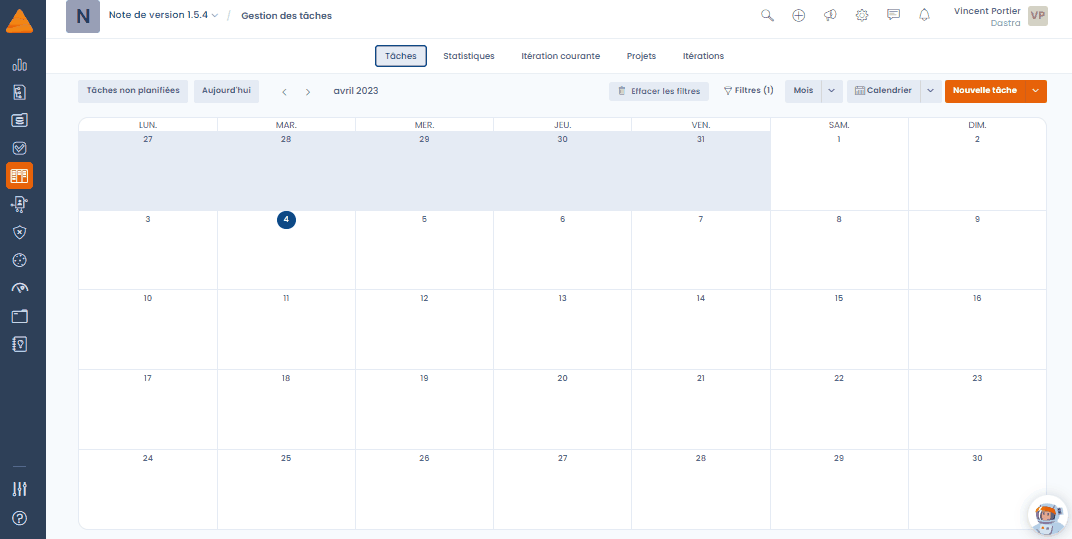 Replanning tasks
We've made rescheduling your tasks faster and easier. Simply move a scheduled task to another day to reschedule it in seconds. This way you can quickly change your schedule to suit your needs. And if your task spans several days, the end date is recalculated from the new planning day.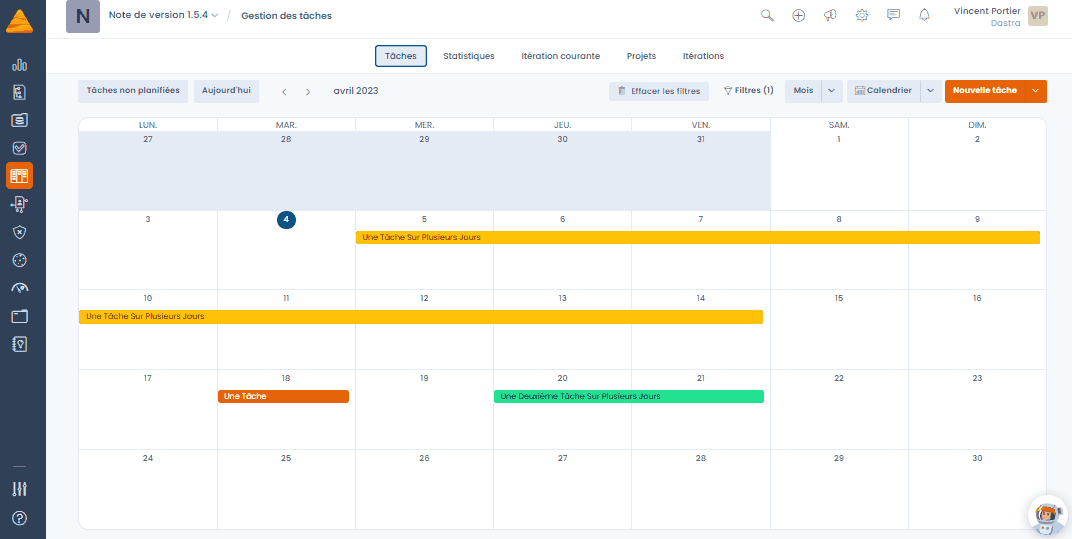 Viewing tasks that exceed your calendar
It can happen that some tasks are overflowing from the current view (for example, a task during a week while you are viewing a day). We have added a visual indicator for these tasks. It's now easy to spot those tasks that need attention, so you can manage them accordingly.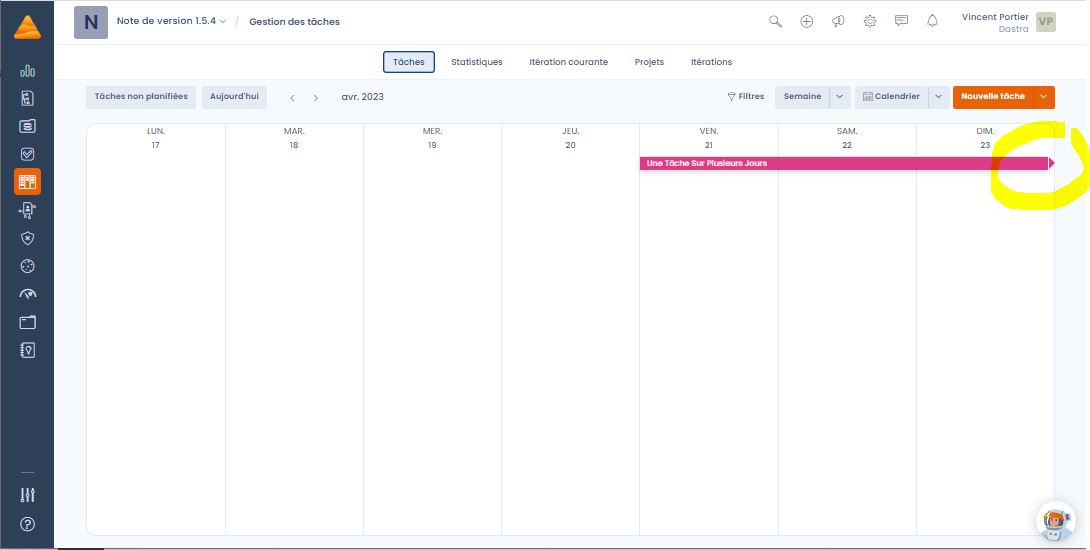 Viewing task details
We've added a task details window to display all the information you need in one place. This allows us to clean up the information displayed on the calendar while giving you quick access to the full content. Simply click on a task to view details such as description, start date, end date, subtasks, etc.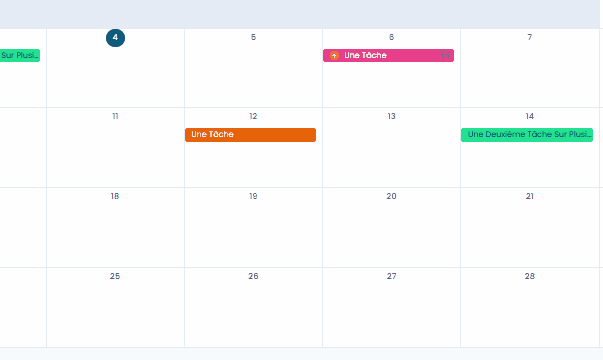 Quick task editing
The details window also allows you to change the most important information of a task (label, status and color) in a few clicks. To do this, simply click on the item in the details window, make your changes and that's it. No need to go through the full editor anymore (although it is still accessible by clicking on the little pencil or on the edit option in the context menu).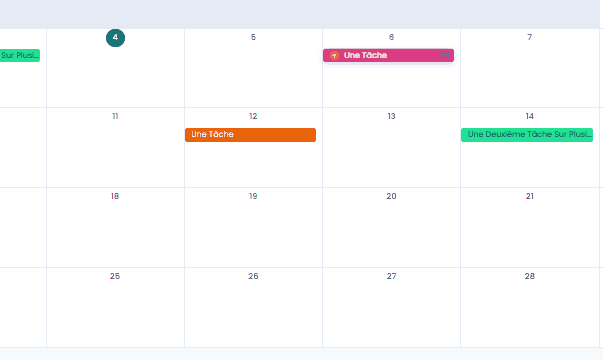 Task context menu
We have added a contextual menu for tasks to make it easier to access your usual shortcuts. By right-clicking on a task, you can quickly access a menu that allows you to edit, delete, duplicate, etc. This saves you time by not having to search for the corresponding buttons and by easily accessing the most common actions.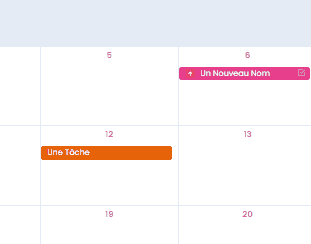 Task deplanning
We have added a de-scheduling feature for tasks, so you can remove a scheduled task quickly and easily. If you decide you don't want to do a task on the scheduled date, you can simply drag it from the calendar to the Unplanned Tasks tab to remove it from your schedule. This allows you to keep your calendar clean and organized by removing tasks you don't want to schedule right away.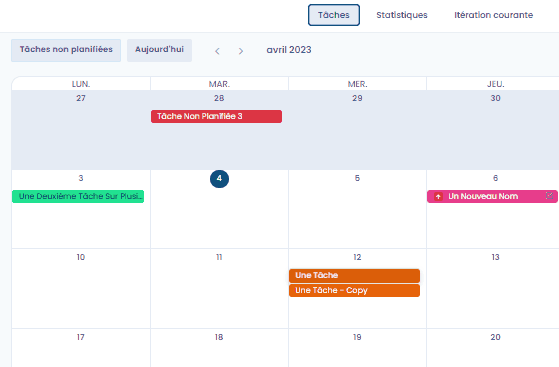 Filtering tasks
We've kept the filtering for tasks, so you can easily sort and view tasks based on your preferred criteria. This allows you to quickly find the tasks you are looking for and easily organize them according to your priorities. By using this feature, you can view only the tasks that are important to you at a given time and thus, improve your productivity by avoiding distractions.
That's it for all the calendar features. We still have lots of ideas to improve this tool, but don't hesitate to give us your feedback. Good planning to all!
Rights in document management
The rights and access management feature is now available in your document management module. This feature allows you to control access rights to your folders, subfolders and files by assigning specific permissions to teams or directly to users.
You can manage access rights to your documents by assigning different levels of permission, such as read-only or document modification. A new permission (manage) in the File Management permission allows you to allow certain users to grant access to files.
Rights and access management can be done at several levels: folder, sub-folder or file. This granularity allows you to precisely control the access rights of users to specific documents.
By default, all your files are authorized.
When you set permissions on a folder, the permissions are inherited for the child folders/files (unless you set different access in the subfolders).

For more details on this feature, you can read our documentation on file permissions
An integration with the french Sirene / Insee database
You can now fill in the subcontractor forms from the information in the french Sirène / Insee database. This simplifies the creation process by automating the recovery of basic information.
To use this feature, you must activate the integration from your workspace settings (workspace settings > integrations > Sirène / Insee > Add integration). Once activated, when filling in a subcontractor form, the text field will make intelligent suggestions if it finds a subcontractor with the same name. If you select one of the suggestions, your form will be automatically filled with the relevant information that we have retrieved.
This new integration reduces the risk of data entry errors and saves you time. In addition, the regular updating of the Sirene / Insee database ensures the reliability of the information retrieved.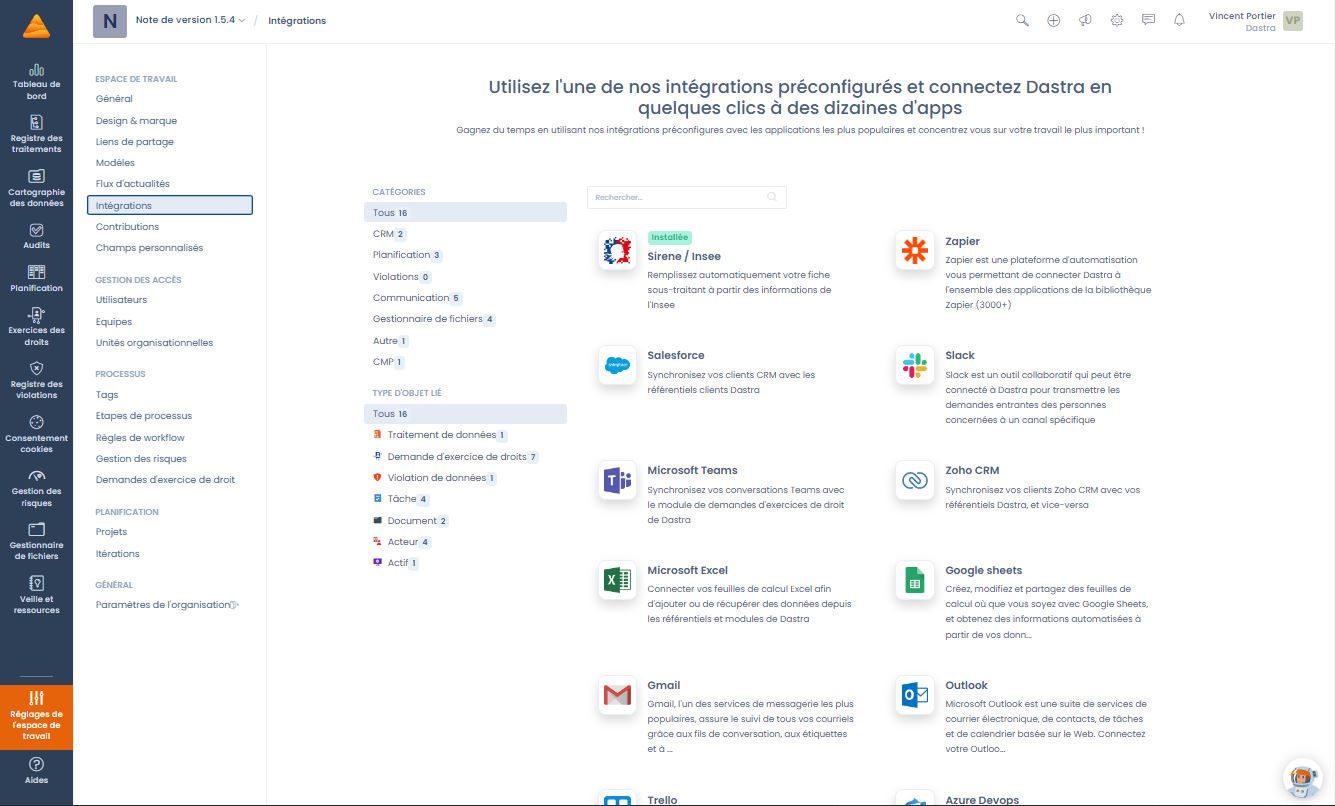 Graphical representation of a processing
You can now visualize in a graphic way the path of your data in the summary section of your data processing. This new display mode allows you to easily visualize the data flows entered in your processing.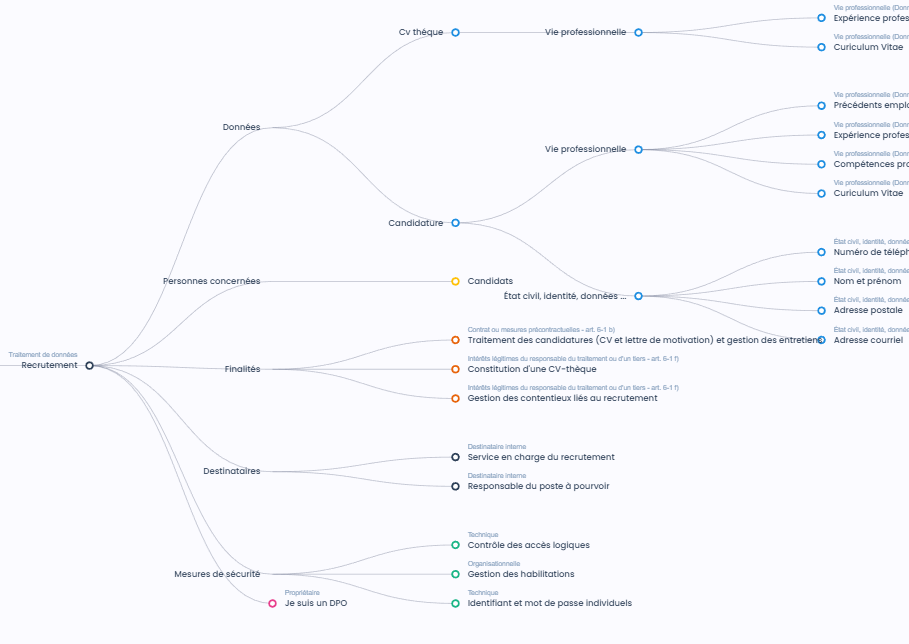 Trigger on step change for workflow rules
Many of you have asked for it, we have finally implemented a new trigger in the workflow rules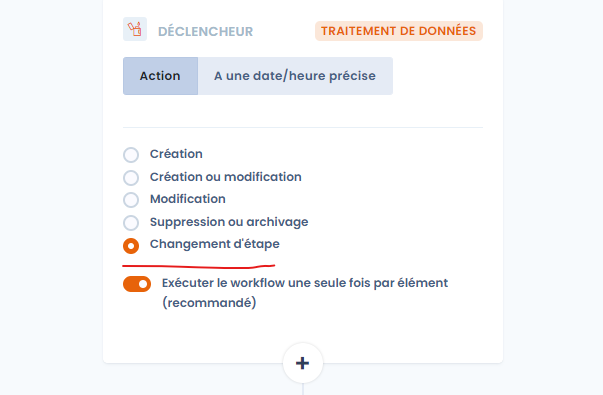 A big thank you to our community for their support, bug reports and feature ideas! All your feedback is carefully analyzed and taken into account in our roadmap decisions. We still have a lot of great things in preparation for the coming months, we will of course keep you informed!